Class SLScope.TSLScopeLayer
From Mitov Wiki Doc
(Difference between revisions)
 

Line 31:
Line 31:
 

</code>

 

</code>

 

== Summary ==

 

== Summary ==

−

A scope drawing layer. See Also Defines a scope drawing layer. You can add this layer to any drawing component such as TVLDraw to render a video layer containing a scope. <b>Example:</b> <image ScopeLayerSample>

+

A scope drawing layer.

 
 
 

== Description ==

 

== Description ==

Line 116:
Line 116:
 

*[[Property SLScope.TSLDataDisplay.PlotHeight|PlotHeight]]

 

*[[Property SLScope.TSLDataDisplay.PlotHeight|PlotHeight]]

 

*[[Property SLScope.TSLDataDisplay.Views|Views]]

 

*[[Property SLScope.TSLDataDisplay.Views|Views]]

−

*[[Property SLScope.TSLDataDisplay.|]]

+

*[[Property SLScope.TSLDataDisplay.|]]

 
 
 

== Methods ==

 

== Methods ==
---
Revision as of 01:18, 22 November 2011
This is a Beta Read Only version of this page. Please review and send recommendations to mitov@mitov.com. We will enable the editing as soon as we are happy with the overall Wiki site.

Package: SignalLabScopePkg
Unit: SLScope
Inherits: TSLScope
Syntax
Delphi:
type TSLScopeLayer = class( TSLScope )
C++ Builder:
class TSLScopeLayer : public TSLScope
Visual C++ (MFC):
class CTSLScopeLayer : public CTSLScope
C# (.NET):
public ref class TSLScopeLayer : Mitov.PlotLab.Scope
Summary
A scope drawing layer.
Description
A scope drawing layer. See Also Defines a scope drawing layer. You can add this layer to any drawing component such as TVLDraw to render a video layer containing a scope. Example: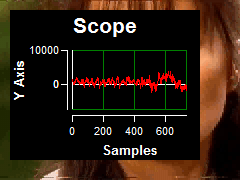 Properties
Published
Methods
Public
Events
Properties
Published
Methods
Public
PinLists
Events
Properties
Published
Public
Methods
Public
Events
Methods
Public
Properties
Public
Methods
Public
Properties
Published
Methods
Public
Events